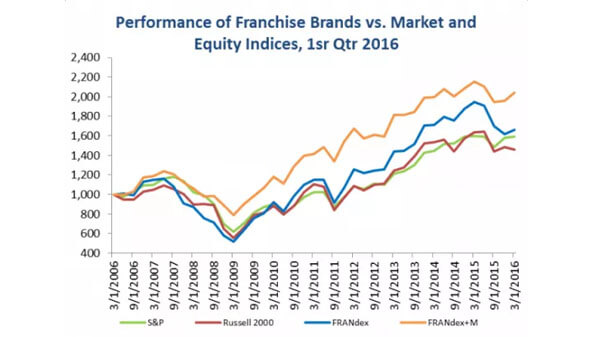 The second quarter of 2016 was marked by uncertainty, as legislative rulings challenged the structure of the business model. Planet Fitness (PLNT) registered the highest gain at 38.1%, followed by Jack in the Box (JACK). Other top performers were Papa Johns (PZZA), Krispy Kreme Doughnuts (KKD), and Wingstop (WING); immediately after this reporting period, Krispy Kreme went private. Although below the S&P 500 and Russell 2000 in the second quarter, by 519 and 669 basis points, respectively, FRANdex's period-over-period return over 41 examined quarters continued to outperform the S&P 500 (+0.66%) and the Russell 2000 (+0.69%).
The Russell 2000 faired best in the second quarter, with a 3.4% return, while the S&P 500 rose by 1.9%. FRANdex saw an overall drop of 8%, although food brands ended the quarter with a 1% gain. Non-food brands declined nearly 15% in the second quarter, with financial service franchises and hotel brands accounting for much of the downward trend. Most notable declines in the financial services sector included Liberty Tax (-28.5%) and H&R Block (14.5%); Choice Hotels and Starwood Hotels each fell by approximately 12%.
FRANdex tracks the performance, based on market capitalization, of 58 U.S.-based publicly-traded companies operating under and generating income through the franchise business model. Collectively, these companies operate 134 franchise brands. All index levels are normalized to 1,000 at Q1 2006 for comparison purposes, and all remaining periods are adjusted accordingly. As McDonald's represents over 25% of the overall market capitalization of publicly-traded franchise companies, it is excluded from the base FRANdex, but shown above as FRANdex+M.