What We Do?
FRANdata works with clients on their most challenging performance issues, investing significant time and effort in developing and renewing a knowledge base that offers unique perspectives and insights. We apply our understanding of the market and industry forces to develop long-term strategic direction for our clients.
We took a central role in developing performance standards around particular areas of the franchise model and set the bar based on those standards –  industry-accepted measurements and standards of reporting were born: true failure rate, unit time-to-breakeven, the Bank Credit report and the franchise continuity rate.
We enable our clients to achieve lasting success in franchising. Our work is founded on a rigorous understanding of every client's business context, industry dynamics, and market climate. We study franchise trends and emerging best practices because we believe that in order to serve our clients, we must stay ahead of the game.
History
Remember the term UFOC? We started as a UFOC (now FDD) collection company, but soon customer inquiries came in asking us to compare them against their peers; so, we quickly became a data analysis company, expertly dissecting and analyzing data into understandable pieces of strategic information.  It was a natural transition to go from mastering the data found in the FDD to researching beyond publicly available sources. In the mid-1990s we were proudly commissioned by the IFA to create one of the earliest attempts to analyze the franchise industry as a whole, called the "Profile of Franchising" report. Shortly thereafter, as part of our entry into franchise capital access solutions, we launched the Franchise Registry. 40,000 FDDs later and more than 10,000 franchisor and supplier clients over the years, our market has embraced our robust analysis and has helped us usher in our current role as consultants and industry analysts. With our role as objective analysts comes the responsibility to have the analytical tools in place to correctly decipher and measure a franchise business' true performance success and failure. From the first UFOC collected over 25 years ago to the research and consulting projects of today, FRANdata has built our business from a culture of integrity and the desire to grow the industry we serve.
2019
Launches the Top Score Award at MUFC
2018

More than 9000 Lender representing hundreds of banks access the Franchise Registry
Experian utilizes FUND to enhance their business scoring model
Releases Forbes Franchises 2018
2016


More than 50,000 FDDs collected
2015


Franchise Credit Score used by Lenders for Underwriting loans
2014


Created methodology and ranking for Forbes
2013

2013


SBA adopts FRUNS
2012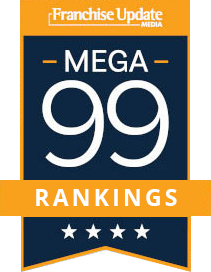 Began working on the Mega 99 rankings with Franchise Update Magazine
Ranking the largest multi-unit franchisees in the United States
2009


BCR | Bank Credit Report
2004
Acquired by Darrel Johnson
1997


Franchise Registry
1996
First IFA Research Project
Meet the Franchise Experts
Edith Wiseman

(PRESIDENT) Edith is a 15 year veteran of FRANdata. She has played a pivotal leadership role in the strategic growth of FRANdata's Capital Access and Franchise Business Intelligence suite of solutions. As President of FRANdata, Wiseman is responsible for sales, product development, and market strategy.

Paul Wilbur

As COO of FRANdata, Paul is instrumental in building the research and consulting framework at FRANdata. Paul manages the Research, Information Management, Marketing and IT departments and plays an integral role in the strategic development of FRANdata's suite of franchise solutions.

Dallas Kerley

Kerley has over a decade of experience in the franchise industry and has been a featured speaker at numerous business and franchise conferences. In his former role as CEO of Benetrends Financial, a leading 401(k) business financing firm in the franchise community, he helped educate entrepreneurs on small business funding strategies and has written several articles on small business topics for a variety of publications.