Helping Elevate Franchise Financing
By connecting more than 9,000 lenders to every franchise in the FRANdata

database, the Franchise Registry provides the information, services, and support that facilitate tens of thousands of loans to franchisees each year.
The Franchise Registry lists every franchise in the United States. While its primary purpose is to make lenders aware of the existence and viability of a franchise brand, many people, such as prospective franchisees, government agencies, educational institutions, and industry experts use the site to validate that a franchise is an existing and thriving company.
The Franchise Registry is where Lenders come to do franchise financing. More than 9,000 lenders rely on the Franchise Registry to find information and FUND scores about franchise brands that enable them to provide more and better loans to their franchisees-borrowers.
The Franchise Registry is where Franchisors ensure that their franchisees get the best loan terms as efficiently as possible.  A franchise brand which has a verified Franchise Registry status tells lenders that the franchise knows their risk profile and has received suggestions on how to improve the performance.
Franchise Financing Services Offered on the Franchise Registry:
Franchise Registry Verified Franchises: Enables franchisors to make it as easy and as fast as possible for their franchisees to get loans with the best terms. A verified Franchise Registry membership: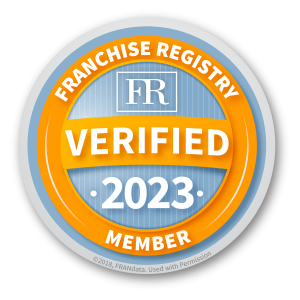 Shows lenders that a franchisor has a vested interested and cares about their franchisee's ability to get financing. A lender knows that they have an engaged franchisor in the financing process which will make the process smoother and more efficient.
Demonstrates of the level of support the franchise will get over the course of their franchisee life cycle. If they can't make a small investment to make franchisee financing easy which is the only way that franchisees get into business, then what will their other support look like?
Because the franchisor is going through a verification process with their Franchise Registry membership, the franchisor is required to overcome hurdles such as reviewing their credit score and report to understand the credit risks to the system, lenders get a better educated franchisor. The Franchisor is able to constantly learn and improve based on their interaction with lenders while understanding their credit risk profile.

BCR Services: Lenders consider loan packages that do not have any information about the franchise system to be high risk and they are reluctant to make the deals. A Bank Credit Report (BCR) on your franchise system provides lenders the information they need to overcome their risk concerns. Endorsed by major lending institutions such as Bank of America, TD Bank, The Bancorp and others, the reports are beginning to be a requirement for franchise lending. As part of having FRANdata produce a BCR for your brand, you also get our loan support services to help answer any and all question from lenders while they underwrite the loan for your franchisee.
Click here to get registered
Click her to find out more about being a Franchise Registry member