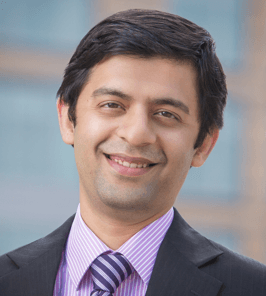 Ritwik's expertise as a senior research analyst has allowed him to analyze the ins and outs of the operational and financial performances of hundreds of franchise brands.
Joining FRANdata in 2011, Ritwik has over a decade-long history of analyzing the mechanics of the franchise business model. As the Senior Research Analyst, he has lent his capabilities, leading several engagements with some of the topmost franchises in the country. He has led a multitude of market research & financial analysis-driven projects covering in-depth industry analysis and market sizing, business best practice studies, private equity-focused due diligence, go-to-market strategies, etc. His creativity has enabled FRANdata to branch out into new verticals and develop new information products and services. Ritwik is also a regular contributor to the franchise industry's thought leadership, having been published and cited across multiple industry journals and magazines. He is also the author of FRANdex, a quarterly stock index and reports tracking publicly traded franchise companies.
Before landing at FRANdata, Ritwik consulted with global Fortune 500 companies on managing their pricing, marketing, and corporate strategies for the U.S. and Asia-Pacific regions. He was a Senior Business Journalist for major newspaper publications carrying out financial and strategic analysis for the IT as well as small business sectors. He is a published author of over 500 articles and news stories in India, the United Kingdom, and the United States.
He holds dual Master's degrees – an MBA degree from George Washington University, Washington D.C., and an MA in International Journalism from Birmingham City University, UK, in addition to a B.Com degree from the University of Mumbai in India. Ritwik has also previous work experience in India and the UK.
Phone: 800-485-9570
Email: RDonde@frandata.com